http://manwasidrunk.blogspot.com
Here we are my go-go-getters, it's the middle of the week, Wednesday and we have a new secretary of education. It looks like we're going to be busy these days keeping an eye on so many inexperienced people representing us and trying to govern us by pretending to know what the fuck they are doing. They don't know how to govern a multicultural and progressive, fast moving nation, except by trying to isolate us like we're living in the past. We are NOT living in the past, we are watching and we will respond accordingly. Quit trying to shut up the media and work in the dark, this is happening. Guys, we've got this, one day at a time, just eat right, stay hydrated, stretch out and be ready like a agile fox. It's on ! Are you guys ready? Wednesday! -Manwasidrunk
https://bearditorium.tumblr.com/
https://bearditorium.tumblr.com/
http://ima81baby.tumblr.com/post/156729194594
https://bearditorium.tumblr.com/post/156809384325/fabricio
Godzilla receives a key from a city
http://coprolaliaproletaria.tumblr.com/post/156836488444
http://coprolaliaproletaria.tumblr.com/post/156836468039
http://jesuisunechatte.tumblr.com/post/133471263276/gif-giz-2015-filmleri-izle
By CAITLIN EMMA and KIMBERLY HEFLING
Vice President Mike Pence on Tuesday cast a historic tie-breaking vote in the Senate to seal Betsy DeVos' confirmation as the next Education secretary, ending an unusually contentious fight over a Cabinet post that has traditionally enjoyed bipartisan support.
The 51-50 vote to confirm DeVos comes after the billionaire philanthropist and GOP mega-donor unexpectedly emerged as the most contentious of any of President Donald Trump's Cabinet nominees.
http://www.politico.com/story/2017/02/betsy-devos-democrats-confirmation-234691
WASHINGTON — The Senate confirmed Betsy DeVos as education secretary by a razor-thin margin Tuesday, with Vice President Mike Pence casting an unprecedented vote to break a 50-50 tie on a Cabinet nomination. It is also the first time in history that an education secretary has ever been confirmed without bipartisan support.

No Democrats voted for DeVos's nomination, and two Republicans crossed party lines to oppose her, saying they believed she was too inexperienced and narrowly focused on school choice issues like charter schools and vouchers to adequately support public schools.

But a frantic effort by Democrats — including a deluge of phone calls from constituents and 24 straight hours of anti-DeVos speeches on the Senate floor — failed to convince a third Republican to jump ship and kill the nomination. That left Pence with the deciding vote, the first time in congressional history that a vice president has broken a tie on a Cabinet nominee.

"On this vote, the yeas are 50, the nays are 50. The Senate being equally divided, the vice president votes in the affirmative and the nomination is confirmed," Pence told the deadlocked chamber.

Pence had told Fox News Sunday that it would be his "high honor to cast the deciding tie-breaking vote" on DeVos's nomination.

[…]

No education secretary nominee in history has ever

garnered the kind of opposition

that DeVos, a billionaire education philanthropist and Republican megadonor, did. After a

lackluster hearing

in which she seemed to struggle with several basic concepts of federal education policy, she became a central target of Senate Democrats, who jumped on her relative inexperience in public schooling and complex financial ties.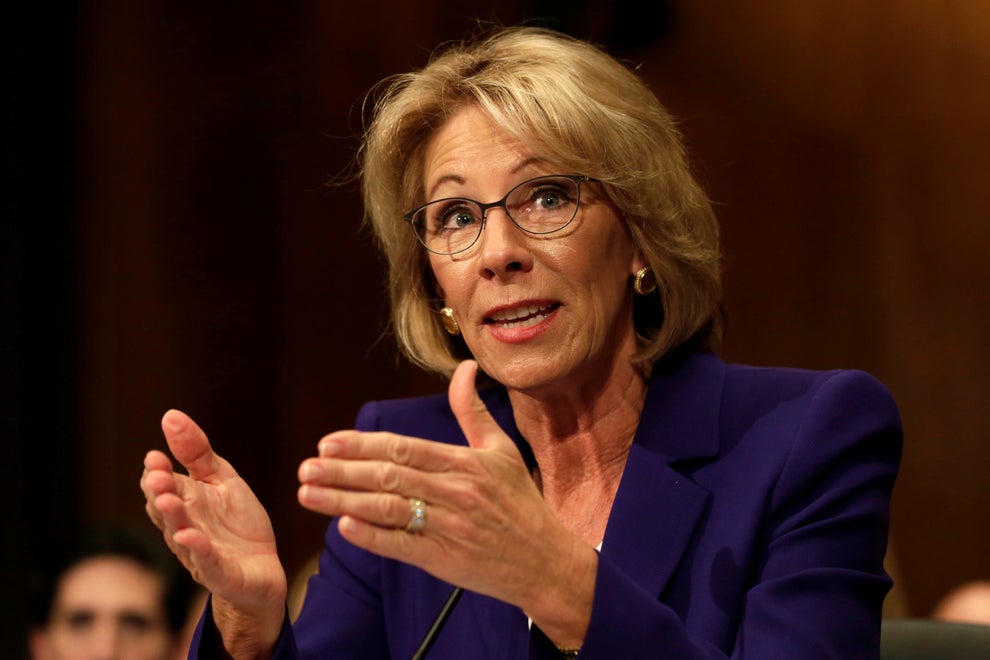 https://www.buzzfeed.com/mollyhensleyclancy/betsy-devos-is-confirmed-as-education-secretary-thanks-to-an?utm_term=.cgo70JzWE#.xbjYnmv7D
http://phroyd.tumblr.com/